In regards to estate planning, a power of attorney is a crucial asset. However, there are a few different dimensions to power of attorneys, and it's important to understand and utilize them appropriately.
So what exactly is a power of attorney? By definition, it determines who will act for you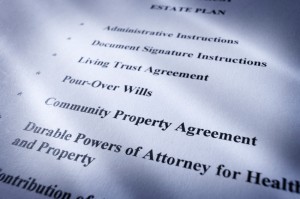 in the instance that you become incapacitated, and someone needs to make financial (or other) decisions. There are four different types of power of attorney:
•    Limited. A limited power of attorney gives someone else the power to act on your behalf for a very limited purpose.
•    General. A general power of attorney is comprehensive and gives your attorney-in-fact all the powers and rights that you have yourself. A general power of attorney ends on your death or incapacitation unless you rescind it before then.
•    Durable. A durable power of attorney can be general or limited in scope, but it remains in effect after you become incapacitated. Without a durable power of attorney, if you become incapacitated, no one can represent you unless a court appoints a conservator or guardian.
•    Springing. Like a durable power of attorney, a springing power of attorney can allow your attorney-in-fact to act for you if you become incapacitated, but it does not become effective until you are incapacitated.
Even with all of these options, choosing an individual to act as your power of attorney is an important decision. They will have much control over your finances, and should thus be someone that you trust completely.
While many pre-packaged do-it-yourself power of attorney forms are available, it is a good idea to have an elder lawyer draft the form specifically for you. There are many issues to consider and one size does not fit all. Contact an elder law attorney, like Adam Tobin, to learn more.
(Article source: Elder Law Answers)