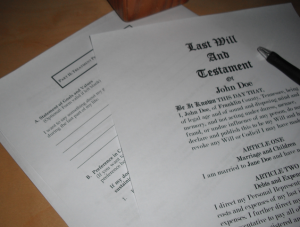 If you are working with, or considering finding a Massachusetts elder law attorney or Massachusetts nursing home attorney for the affairs of your aging parents, you will soon discover the value of that decision. An experienced Massachusetts estate planning lawyer can save you untold amounts of stress and money, and provides an amazing amount of peace of mind. You may also discover something you did not expect…that it is never too early to draft a will of your own.
If going through this exercise with your parents has you considering putting your own affairs in order, here are some valuable tips to help you in the process.
Choose an appropriate executor. This person should have organizational skills, be detail oriented and should accept the responsibility willingly.
Select a back-up executor. A substitute executor will serve in the event you and your primary executor were to die simultaneously. This is quite possible where spouses select each other, but then don't choose a substitute.
Select an experienced attorney.
Feel free to make specific legacies to individuals. This can make your desires clear and is a very personal and deep meaning way to recognize those you care about.
Keep your will secure and let family members know where it is kept.
Make sure your will is properly signed and legally witnessed. Your attorney can help make sure this is done correctly.
Making a will doesn't have to be difficult or expensive, but it does take the desire to follow through. Finding a Massachusetts estate planning lawyer can get you started. If you have questions, concerns or would like assistance with your parents affairs or in setting up your own details, we invite you to contact us. We are experienced, caring, and will help ensure the wishes of you and your parents are fulfilled. We look forward to working with you.