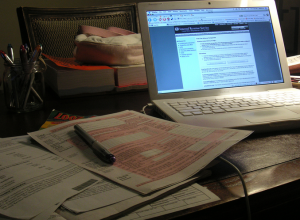 As children begin to see their senior parents struggle with finances, it is important to understand how to help them without taking away their independence or getting into arguments over the issue. There are a number of different concerns that children may find when visiting their parents; bills haven't been paid, papers are in a disarray, or even certain utilities have been cut off.
Child/parent relationships come in many different forms. Some parents are very open about their financial situations, allowing their children to participate in bill payment and investment decisions. Others have a much stronger sense of control for fear of losing their identity along with their checkbook, sometimes even suspecting their children of going after their money.
Here are a few approaches that have worked for children in the past:
–Offer to help with the bill payments. Allow parents to continue to control the checkbook, but schedule a monthly meeting to go through all the bills that have accumulated. If children feel better writing the checks out, allow the parents to sign them.
–Segregate accounts. By leaving the senior in charge of a family checking account, but taking control of investment accounts, this will limit the amount of risk to a parent's entire estate.
–Make sure the parent takes care of estate planning while they are still competent. Through properly executed durable powers of attorney and revocable living trusts, children can have the option of stepping in when it is necessary.
–Use the Internet. Children can have access to online accounts, which allow them to monitor without taking full control. This way, if payments or transfers that seem out of the ordinary occur, children can step in quickly without waiting until their monthly meeting.
–Play with the parental responsibility. Children should bring up the idea of helping with finances as a way of easing their own minds, rather than as a response to the parent's incapacity to handle them independently. This is something the parent is doing for the child, not the other way around.
–If all else fails, a child may need to seek a court appointment to become guardian or conservator over the parent's finances. Though this will give them total control, it will remove the parents' right in making any legal or financial decisions. It also involves legal costs, period reporting to court, and, in some cases, long-term care planning steps that could be carried out freely under a durable power of attorney or revocable living trust.
If one option does not work, try another. There is no single right answer and it may be necessary to try a few different options before finding one that works. To find out more about Massachusetts Elder Law, contact a knowledgeable elder law attorney like Adam Tobin to review all available options.