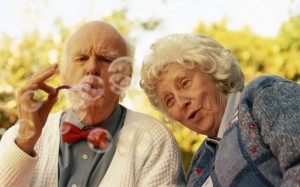 Personal finance is never easy. It can be even more difficult when you're faced with helping your elderly parents' with their finances as well.
It's a tough situation. Not only are you grappling with the reality that they won't be around forever, you're also having to deal with the stress of ensuring their financial security. Not the easiest subject to approach. Especially with the fact that you're parents have lived their lives and have been independent for so long. Just the thought could make them feel like a piece of their dignity is being taken away.
But all parents aren't the same. Some may realize they need help and are open to sharing their financial situation with their children. Others may guard it like Fort Knox. Some may be embarrassed or in denial of their financial standing. Which ever the case may be, you want to show understanding when the conversation is brought up.
Even though there's no single way of speaking to elderly parents on the subject, here are a few handy tips that could help both you and your parents.
Don't Force It. Kindly offer assistance to help Mom and Dad with their budgeting and bills.  Use quality time to go through accumulated bills, write out checks or have Mom and Dad sign them.  Set up automatic bill-pay plans for reoccurring bills and teach them about online banking.  Make it clear that you're there to help and not stripping them of control.
Use online banking to your Advantage. Gain access and monitor your elder parents accounts without making it too obvious.  This gives you the ability to detect questionable incorrect or duplicate transactions. Another option is to arrange statement copies mailed to you by the banks with Mom and Dad's approval of course.
Establish a durable power of attorney. Speak with your elder law offices and properly draft and establish a durable power of attorney that gives you the ability to legally take control when necessary, especially when a parent's competence are impeded.  Explain to them that it will allow you to respect their wishes and is meant to be a reassurance.  Remember, that a power of attorney must be signed before a parent loses sound mental judgment. Keep the original power of attorney safe. Have it locked up somewhere fireproof and out of reach from anyone except your self.
Put yourself in their shoes. To make the process smooth and beneficial for everyone, be genuine and understanding. Know where you're parents are coming from and be able to communicate your feelings and explain that by helping them with their finances will give you peace. Mom and Dad may view this as taking care of you and not a suggestion of their declining state.
Communication is key. When managing your elderly parents finance, be sure to fully disclose everything and keep them in the loop.  Keep them engaged and active with the decision-making.  There's a lot of trust involved, so let them know what's going on with their money. Same goes for all brothers and sisters. They also have the right to know what's happening.
Get organized. If anything is in disorder, help Mom and Dad organize all their paperwork that may involve income, expenses, and savings.
Keep a record of everything. Keep a record of any and all transactions or changes you do with their finances, including writing checks, receipts of purchases, and bill payments.
Don't forget… there's no simple solution.  Not every approach will work, but do what works best for you and your family and everything will fall in line. Just don't put it off until it's too late.
If you would like to consider setting up a power of attorney or need any other legal advice in elder law, please contact the Law Offices of Adam Tobin today. We would be glad to help.