If you're a baby-boomer, you probably cringe at the idea of having "the talk".  And I'm not talking about the one you have with your kids about where babies come from. "The talk" in reference is probably just as uncomfortable, but very necessary- it's 'the talk' aging parents need to have with their children regarding finances in the final stages of life.
According to an article in the St. Louis Post-Dispatch, "the talk" should detail parents' preferences for money management, paying for long-term care, a healthcare proxy, and burial or funeral arrangements, among other things.
All of these topics, however, are sensitive in nature because of the shift in control associated with them. Parents are used to holding the position of power when it comes to their children, and this kind of role reversal can be hard to accept.  It's also difficult because imminent death is rarely a light or pleasant conversation.  However, helping your parents prepare and making sure you know their wishes should help to ease their minds.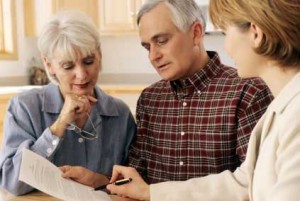 The article advises that you follow these simple tips to make "the talk" a little less intimidating:
Use your own financial planning to lay the foundation of the conversation to avoid singling them out.
Be direct.
Have you parent(s) write down account numbers, logins, and any other useful information necessary to access accounts if needed.  They can store this document in a safe place in their home or in a safety deposit box- as long as the executor will have access to it when needed.
Don't try to rush the planning; these things take time and consideration.
Perhaps the most important piece of advice given is to meet with a lawyer to assist you in probate administration, health care options, estate planning, and other elder law services.  Adam Tobin is an experienced probate and estate planning attorney. Contact him to see how he can help you make "the talk" less awkward and more productive.