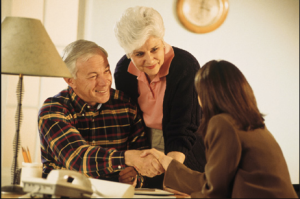 Massachusetts estate planning makes use of two similar legal arrangements. Each is backed up by separate authorities.
A power of attorney is useful if your loved one is somewhat incapacitated yet able to choose someone to handle their affairs. Your lawyer can write a contract assigning someone else legal authority over your loved one's financial affairs. The power of attorney can be for a specific activity, such as the sale of a house or estate, or it can be a general power of attorney over all financial matters.
Guardianship gets its authority from a probate court. The court decides that an individual is incapable of handling their affairs and assigns decision-making authority to a guardian.
In order to get a Guardianship order, you'll need evidence that your loved one is incompetent or incapable of handling their affairs. This is usually caused by mental illness, cognitive impairment, or loss of health. An elderly person who has been diagnosed with Alzheimer's disease, for instance, may fall into that category.
Like a power of attorney, Guardianship may be obtained for specific areas of decision making. For example, you may be granted control over a loved one's medical choices or given power to sell assets in the event of a sudden and rapid decline in health.To obtain Guardianship, you must first obtain medical documentation proving your loved one is unable to handle their affairs. Then you file a petition in probate court. Notice of Guardianship is sent out to heirs and closest living relatives. A hearing is scheduled to allow all interested parties a chance to object to the Guardianship order.For a power of attorney, you simply have your lawyer draft the papers and your loved one signs it.
Effective estate planning in Massachusetts can starts with proper legal documentation. You should seek legal counsel early on to ensure your elderly loved one's assets are protected and managed well.